Sunday, 14  March  2010  :    Shree Swamiji  arrived   from Kolkata,  at Shree Ramashram , Bangalore , to  a rain of  marigold  and  jasmine  , a riot of  rangoli , laughter of  children  and  the chant  of  Hare Rama  .
His Holiness was  accorded  the  traditional     Purna Kumbha  swagatham and  the  auspicious  notes of Nadaswaram   wafted in the air. Hundreds of devotees   had  gathered to welcome  Shree Swamiji and  receive  his  blessings.
Earlier  in the evening,  Shree Swamiji   participated in a  public    meeting  organised by the  Gou Rakshasamithi, under the  leadership of  Pujya  Pejawara  Swamiji  at  Vidhyapeet  math  Bangalore.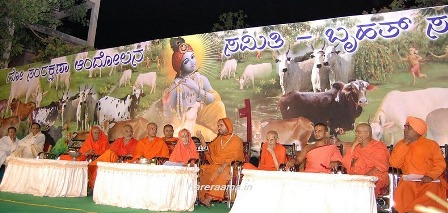 Shree Swamiji's visit  to  Bangalore  ashram brought  cheer to   devotees  who  performed  arathi and bhajans. This  is  Shree Swamiji's  first visit  to  Bangalore  after the formation of  Bangalore Mandala. Sri. M.N. Bhat, President of  Administration, Shreemath  and Sri. C.H.S. Bhat, President  of the  newly formed  Bangalore  Mandala and other  office bearers were  among the  devotees  who received  Shree Swamiji  with  the traditional honour.
An  exquisitely  carved   conch was  presented to  Shree Swamiji by the  devotees to  mark the successful completion of   Vishwa mangala  Gou Grama  Yathra, which   commenced in Kurukshetra  with the blowing of 108  conches, on 30th September, 2009. Shree Swamij who took the mainstage in this  mega  movement  was thrilled  with the presentation  of the  conch as it  proclaims to the  world   that the   war for the  cow  will continue  till we win.
Blessing  the  devotees, Shree Swamiji  said that  he cherishes  the love of the    children, the fragrance of the flowers  and   the lighted lamps.  A  guru  should become  a  child in innocence,   a flower in   fragrance  and  a  fire  which  burns  evil and  ignorance.
Reported  by  Sharada  Jayagovind
Bangalore